Southern Animal Health in collaboration with Better Veterinary Referrals, is excited to announce that we are now performing Canine Total Hip Replacement Surgery in our hospital.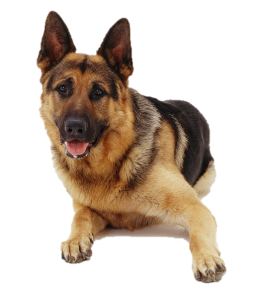 What is Total Hip Replacement (THR) and is my dog a candidate for this surgery?
Just like in people, the ball and socket of the hip joint are replaced with titanium implants to create a pain-free joint with a full normal range of motion.
Total Hip Replacement Surgery is indicated for dogs with hip dysplasia, chronic hip osteoarthritis, non-reducible hip dislocations and irreparable fractures involving the hip.
Before Surgery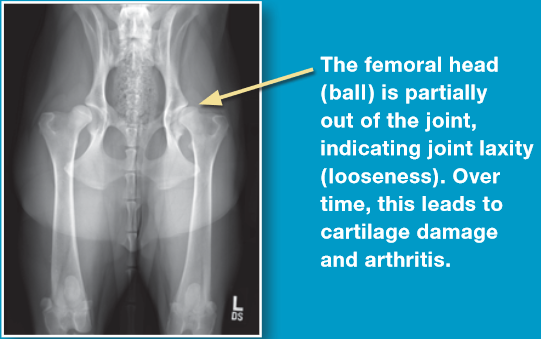 This above x-ray of a canine pelvis immediately before surgery shows bilateral subluxation of the femoral heads (on both sides, ball partially out of the socket) and arthritis, worse on the left. At this stage, dogs usually require medication, such as non-steroidal anti-inflammatory drugs. When discomfort can no longer be controlled with medical management, surgery becomes the best option.
After Surgery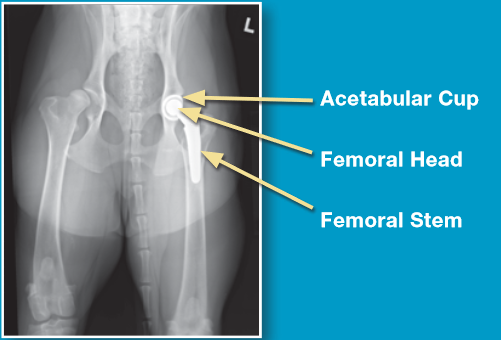 What is the process if my dog needs THR surgery?
• Prior to surgery your dog will be assessed in a consultation with specialist surgeon Dr Ralph Webster, and will then be admitted for sedation and X-rays with Dr Karin Davids. These assessments are necessary to determine the size of prosthesis required.
• On the day of surgery your dog will be admitted by one of our surgery nurses, who will run through a final pre-anaesthetic check-list with you. All patients are administered an opioid premed, epidural analgesia and intravenous fluid treatment along with surgery. A slow-release pain patch is also applied and lasts for four days.
• After surgery you will receive a phone call from Dr Webster.
• Your dog with remain in hospital overnight and will be discharged the following day on a course of pain killers and antibiotics.
• Follow-up visits occur at four days, two weeks, four weeks and eight weeks post-operatively. (Post-THR Home-Care Instructions to be available very soon).
• Follow-up X-rays (under sedation) are taken eight weeks post-operatively.
What if my dog is not a patient of Southern Animal Health?
No problems! Your regular vet can refer you to Dr Webster, surgery will be performed at SAH, and your vet can continue to look after all other aspects of your dog's health care. We can even arrange for your regular vet to be involved with post-surgical care if that is your preference.
What is the cost of THR?
Inclusive of the initial consultation, sedation and X-rays, surgery, medications and all follow-up visits, the cost for Total Hip Replacement surgery is approximately $8,000 as it is dependent on the size of the implant required.
Post-operative X-rays eight weeks after surgery are taken at a discounted fee of $280.
Further questions?
Please contact us on 9584 6100. There is no charge for an initial phone consultation with one of our veterinarians.