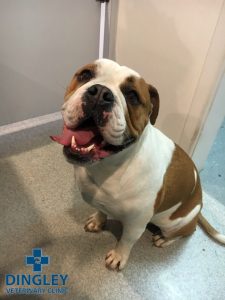 Its been a while, since we have had a stray brought in to us which is the good news however the bad news is that this guy is missing his owners and his home! Do you recognise him? His lost profile is below.
Our Lost Boys Profile
Date Found: 27/07/17
Sex: Male
Lost Location: Outside Jack's Avenue Kindergarten Dingley Village
Breed: Bulldog Cross
Colour: Tan and White
Age: 2-5 (approx.)
He is currently at our Dingley clinic. Please feel free to speak with one of our nurses should you require any further information.
*** UPDATE:  This loud snorer (hehe) is back home happy and safe where he belongs. Thanks so much to all who shared and cared! ***