Just like people, dogs and cats recover much better after major surgery if they are mobile as soon as possible. Specialised exercises and massage techniques performed in the immediate post-operative period, will enhance your pet's recovery and greatly assist them back to full function following surgery. These exercises encourage early mobilisation of the joints and increase blood flow to the tissues to which speeds up the healing process.
There are two ways to incorporate rehabilitation therapy into your pet's recovery program:
Option 1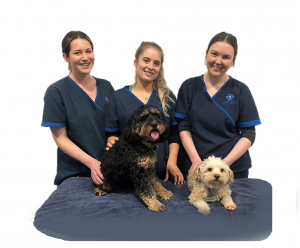 Rehabilitation Therapy at Southern Animal Health (SAH)
Three of our nurses have completed a course in rehabilitation therapy:
Sarah Williams
Steph Locandro
Ally Bakewell
Our rehabilitation nursing team works closely with our head surgeon Dr Karin Davids, to ensure your pet's rehabilitation program is carefully tailored to suit the particular surgical procedure that has been performed. Following surgery, a course of three rehabilitation sessions (starting within the first post-operative week) is recommended. Additional sessions can be arranged if required. During a rehabilitation therapy session your pet will be taken through a series of massage techniques and exercises. The sessions will take between 20 and 30 minutes and the Rehabilitation Nurse will teach you how to continue these exercises and massages at home between visits. The exercises are not painful and are easy to learn.
Cost: Rehabilitation Therapy at SAH is $150 for three sessions. These sessions can be tied in with your pet's post-surgical re-visits for your
convenience.
Option 2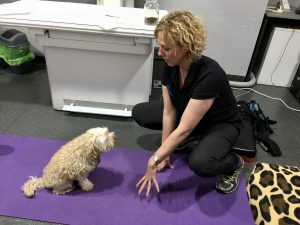 Dogs in Motion Physiotherapy and Hydrotherapy Centre (Located in Moorabbin)
Rehabilitation therapy can be followed up with further treatment at Dogs in Motion (DIM) if you so choose, in order to further enable the healing process. Your Rehabilitation Nurse will inform you of available treatment modalities and approximate costs, in order to help you decide on the best plan for your dog.
Please feel free ask any further questions you may have. If you would like to maximise your pet's recovery after surgery, please make an appointment with the Rehabilitation Nursing Team. It is ideal to have all three sessions with the same nurse if that fits your schedule, but as they work closely together, it is reasonable to use any of our team for each of the three sessions as you progress through the course.
In general, 90-95% of patients recover very well and quickly with our in-house rehabilitation program. In up to 10% of cases that are not progressing as per our expectations, or if you would like to continue with further treatment, Dogs in Motion Physiotherapy (www.dogsinmotion.com.au) is recommended as a follow-on to rehabilitation therapy. Your Rehabilitation Nurse will provide a detailed history of your pet's progress to DIM, enabling them to tailor a specific ongoing treatment program for your pet's needs.