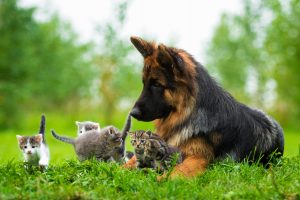 Skin allergies are the most common, yet most misunderstood and over complicated concerns we see. Bulldogs in particular are very over represented for allergies.
Initially we will break our allergy discussion down to reasons, treatments, then how our clinic effects long term control. We will also explain how best to use specialists and how to understand their limitations before you see one.
Causes
Allergies largely fall into four main categories,  a thorough history from an experienced veterinarian can usually help determine what the most likely cause is. It's amazing that when we see second opinions for allergies, often occurring for years, our clients tell us they have no idea what may be the cause. Within just a few short questions, on most occasions we can let them know what's highly likely causing them. Communication with your vet is really important with skin allergies. The four main categories are:
Atopy or airborne allergies: This is by far the biggest group of allergies, caused by environmental allergies such as pollens and dust mites. These usually cause ear, plus or minus paw itch. The more severe ones may go on to cause general body itch.
Contact: The second largest group – usually caused by grasses, wandering jew (a major culprit), but any plant may cause it in any individual. These usually cause paw, muzzle, belly, armpits and groin itching. I.e.: the contact areas! It's quite simple when you think about it.
Fleas: Commonly a problem in summer but can be all year round, more commonly affecting the tail base.
Food: The most commonly implicated but the least likely to be the cause of allergies. Only 7% of all allergies are food related. Usually this allergy will cause flank and all over itching, but can be a crossover of all the other categories in its distribution. However we do feel dogs on better quality diets may be less prone to all allergies. This is another reason we feel home-made diets are far better than commercial diets.
That's it in a nutshell. Just from us obtaining your pets history and from the above, we can very likely let you know what your dog is allergic to. 
Here's a major point that needs to be understood with management of allergies
As most allergies are pollen and grass related, symptoms are going to be ongoing for life, to a mild, moderate or significant degree depending on the dog. This is why so often, when symptomatic treatment is stopped, it's only a matter of time before symptoms come back. Owners get frustrated because of the following:
They see a vet who diagnosis "an allergy" and treats it for 2-3 weeks
Symptoms disappear and things are great, until after a period of time after stopping treatment, symptoms come back
Back to the vet for the same cycle and so on and so on
Here is what is really important – Initially we work out the likely allergy from your pets history, then it may take a little juggling to find the lowest dose but most effective treatment for your individual dog. Once this is established, a long term plan of minimal intervention as required is discussed, going back to occasional pulse treatment for 5-14 days as required if signs really flare, or in more severe and sensitive cases, a very low dose two times weekly ongoing treatment even when things seem reasonable.
We teach you to self maintain the allergy at home, without the need to come rushing to the vet every time it flares.
You can pick up the medications you need as required, simply by calling us first. You don't need to have a consultation each and every time they flare. This is the essence of long-term management of allergies when we see you at our clinic. Once the ongoing nature is understood, in most cases long term management is easy. Occasionally it's not so easy, in which case specialists should be considered.
So how do we treat allergies?
Mild Treatment Options
Paw Conditioner Spray: Used as a 50/50 dilution, sprayed on affected areas daily for 1-2 weeks then 2-3 times weekly ongoing.
Antihistamines: Antihistamines often don't work, or help very little in the pet world but there's no harm in trying them. If they help reduce the doses of other treatments, or are effective in themselves – happy days. Give them a go, but don't expect results. It's a bonus if you do!
Hosing off with Water: Hosing paws and belly off with water after running at the park when we are suspicious of contact or grass allergies.
Hypoallergenic Shampoos: The two we recommend trying are Paw Nutriderm which can be used once weekly and Aloveen fortnightly.
Dietary Trial: More on this later but limitations and expectations need to be understood. There's no harm trying a diet trial, but please read 'Food Allergies' below before you do. Again, we feel an excellent diet potentially lessens the possibility of all allergies.
Veterinary Treatment Options
Steroids: Probably the most misunderstood and least used – but most effective treatment option. 95% of the time they are really effective very quickly, and cost virtually nothing. This is the best short term option and can even be considered long term, if sensible low dose pulse treatment is used, and the true pro's and con's are properly explained. The chances of significant side effects are minimal if used sensibly.
Cytopoint: Monthly injections that in some individuals may give relief for 6-8 weeks. They are costly and do not work in 25% of cases, but are a great option if effective and an excellent option for those not wanting to use steroids (or if steroids have not worked at low safe doses).
Apoqel: Daily tablets that like Cytopoint above, are costly and 25% of the time does not work, but otherwise great as per Cytopoint.
Atopica: Now an older option similar to Apoqel in that it's expensive, and probably greater than 25% doesn't work and has largely been replaced by the above.
Washes: Medicated shampoos for secondary infections for the more severe allergies. We recommended Paw Mediderm or Malaseb as directed by your vet.
Dietary Trials: More on this below but we go straight to Prime 100 Crocodile and Tapioca, home cooking (to be discussed) or Royal Canin Anallergenic. Nothing else. Going off beef or chicken is not a food trial.
Antibiotics: These are used for secondary infections. That is, when the skin becomes inflamed due to both the inciting allergen, and excessive scratching that further inflames the skin, normal bacteria and yeast that live on the skin reproduce and flares, causing a secondary infection. This can be superficial, or left unchecked can become embedded deep in the skin, making it harder to treat. In itself this secondary infection is highly pruritic (itchy) – exacerbating or continuing the itch even if the inciting allergen is no longer present.
With the above in mind we need to discuss an important aspect of allergies, their diagnosis and treatment. Antibiotics are significantly overused. Steroids are significantly underused. Here's why:
Initially, the main problem is inflamed skin caused by the allergen and the scratching the dog does that exacerbates the inflammation. Often the skin looks red due to this. It is not necessarily secondarily infected until sometime later if good control of the dog scratching, and inflammation caused by the allergen, has not been well controlled early. Often at this point owmers visit their vets who prescribes antibiotics. We would guestimate 80% of the time these are totally useless. They do not stop inflammation or stop the dog scratching. Hence are of no use if secondary infections are not yet significant (i.e.: early in the disease when there is just inflammation, and no infection). We need to stop the dog scratching and stop the inflammation in the skin, before the bacteria take hold and take over.
Almost always, steroids do this instantaneously and effectively. Alternatively, you can also use the other treatments above such as Apoqel and Cytopoint if that's your preference, but these may take longer, or not be as effective. Hence our clinic often just starts with the basics above, discusses an initial long-term plan, and assesses initial response to each anti-inflammatory, without any of the expensive tests or antibiotics (also often very expensive, hence you don't really want to be paying for them when not indicated). If not responding quickly, and as expected, you can always add antibiotics.
When truly concerned about secondary bacterial infections, then ideally a simple tape prep test should be done on the spot which looks for obvious overgrowth of bacteria and/or yeast. If found, we can then monitor this for effectiveness to antimicrobial treatment, as often as 3-6 weeks is needed. It's most important follow up fortnightly tape preps are done to check for actual effectiveness of antimicrobial therapy, as if it isn't effective, a different approach is needed. However, we rarely do this first up, except in more obvious or severe cases.
Food Allergies
These are the most over diagnosed cause of allergies and least understood. If conducting a food trial this is what we recommend:
Go straight to a diet very likely to work, if in fact it is a food allergy.
The three we recommend are Prime 100 Crocodile and Tapioca, Royal Canin Anallergenic (not hypoallergenic), or home cooked food such as rabbit and sweet potato. Nothing else!
From the history and distribution, we can guestimate the likeliness of it working, never more than 25% and often less than 5%. So be aware of that.
To be successful, any secondary infections or significant inflammation must first be cleared. This means 2-3 weeks of steroids and antibiotics as indicated above. Food trials often fail as the initial inflammation plus or minus infections are not treated.
If all scratching has ceased within 2-3 weeks, and it stays like this for another 2-3 weeks, then you have your answer. You can now add foods back in that you may like to use long term. You do not have to stay on the hypoallergenic diet.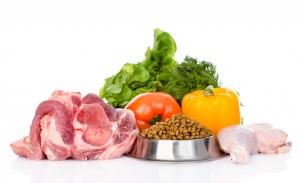 Natural Diets or Raw or Home Cooking
There is a theory that better quality diets may in fact help all allergies merely by virtue of the fact you have a healthier dog with a better functioning immune system. Hence many of the non-food allergies may have their threshold for clinical signs improved by just being on a better diet. We have two things to say about this theory:
There is absolutely no scientific evidence to support this. 
Despite the above fact, it makes complete sense to us that it may well help, despite there being no scientific evidence!
So our advice is this:
We far prefer natural diets over all commercial food for a healthier dog anyway (regardless of allergies), as we maintain commercial foods are not necessarily healthy, they are convenient (of which there is a range of quality).
So if you are wanting to just "try" a better home cooked, natural diet, we think that's great. And if allergies diminish, even better. Go for it!
Dermatology Specialists – Their Overuse and Limitations
Dermatology specialists are great when needed for difficult refractory or complicated cases. However we find in our practice when we see second opinions for chronic allergies, very few of the above basic steps or options have been explained or trialled. When we see social media posts about owners going off to the dermatologist to "work out what's going on" we find the same thing – very few basics have been done.
Hence as good as the specialists are for truly complicated cases, we feel many people are sent off to them far too early. We also find that people have rarely been explained the limitations of dermatologists. So before exploring this option we advise the following:
Specialists can do testing for airborne, contact and flea allergies, but not food. We can only do a trial for that as described above. So you will not be able to test or find out if your dog has a food allergy when you see the specialist.
Our history, as above, can almost always tell us what the likely allergies are anyway, so often those tests are just conforming what we already know. A dog with paw and ear allergies will be allergic to dust mites, pollens and grasses.
Once testing positive to grasses, often a dermatologist's advice is simply: "Never contact grass again". We find that a little impractical.
The other allergies (not food or contact), can be desensitised with serum. We feel in our experience they are less than 50% effective, often just ending up back to square one, relying on the management programs above. The specialists seem to be far more optimistic, citing over 80% success. We feel we have very different ideas of success. Often they still need steroids, or Apoqel etc, just maybe at slightly lower doses, which constitutes "success". Overall, we feel results have been disappointing however on occasion, they are very good. So, we simply advise keep all that in mind to keep your expectations tempered when going to a skin specialist.
If we recommend a client consider a dermatologist, we have a realistic discussion about expectations to avoid frustrations.
In summary, we recommend the following:
A strong history by an experienced vet will likely let you know the cause.
On initial presentation, unless severe, we keep it really simple, without excessive testing and using appropriate anti itch anti inflammatories.
We recommend starting with steroids, but happily use Cytopoint or Apoqel if that's the client's preference.
Using judicial lowest effective dose that cures your dog, we organise a long-term plan that stops you needing to have a consult every time they flare. You can just pick up what you need over the counter.
Use conservative adjunctive shampoos, hosing after park running etc to help minimise pharmacology use.
Almost all can be well controlled with a minimum of repeat veterinary consults, with communication and understanding of the problem.
Specialists are to be considered if all the above does not work.
A final word on steroids
Many pets just suffer the occasional allergy. They're not very sensitive, so don't necessarily have ongoing long-term problems, but just 2-4 times a year, or every few years, have an acute allergy. We feel these cases really should start with steroids, as the most important thing is effectively reducing that skin itch and inflammation before longer term problems set in: Secondary infections and thickened skin due to the excessive scratching of the dog.
In these short term occasional cases steroids, 98% of the time, just stops everything in it's tracks. The other options often don't work nearly as effectively or quickly (let alone cost), increasing the chances things become overly complicated. Hence, we advise before refusing steroids, keep this in mind.
Option 1: For short term occasional allergies 1-2 weeks steroids. If not required any more than 4-5 x per year, and fine in between times, that's the most effective way to nip allergies in the bud.
Option 2: If allergies are recurring too quickly from short term 1-2 week treatments (i.e.: within 6-8 weeks) then there are 2 options: go to Apoqel or Cytopoint, or consider a very low dose ongoing steroid at 2-3 times weekly (just a tiny dose) to minimise, but not necessarily 100% stop allergies. Then on occasion they flare you can still use your 1-2 week higher dose before tapering back down to a tiny two times weekly dose to keep the allergy in check.
Both steroid options above are extremely unlikely to cause any significant side effects long term. And if they do, you can simply stop and go to Apoqel or Cytopoint. The main point here is using a tiny maintenance dose.