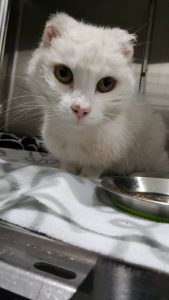 We are sure this lovely lady has been with us before. In fact, we're 90% sure we have treated her however we have exhausted all avenues possible to reach out to her owners. As you will see, her ears make her very unique so hopefully we can find where she belongs and get her home soon.
Our Lost Girls Profile
Date Found: 05/10/17
Sex: Female
Lost Location: Cheltenham
Breed: DSH
Colour: White
Age: 5-12 Years (Approx.)
Please feel free to speak with one of our nurses should you require any further information. Proof of ownership will be required.
** UPDATE: The lovely 16 year old Gypsy is about to go home. Thanks so much to all who shared and cared! **