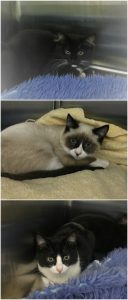 Last night a lovely lady handed in these three scared kittens. She had been feeding while they were hidden in a bush for about 4-5 days in Clayton south.
They're all quite young and seem like they may have had an owner/s in the past but are understandably now quite timid. They are however wanting to be friendly but have clearly had a tough time fending for themselves. We have listed the sex of the kittens below however because of their fractious nature they are difficult to handle and to therefore definitively determine the sex 100%.
Our Lost Pets Profile
Date Found: 24/03/19
Sex: Ragdoll – Male  |   Black DLH – Female  |  Black & White DSH – Female

Lost Location: Autumn Terrace, Clayton South
Breed: Ragdoll & Domestic Breeds
Colour: See above
Age: Young

Please do not contact us for adoption inquries but feel free to speak with one of our nurses should you require any further information. Sufficient proof of ownership (such as the current information connected to microchip, photos and videos) and your identification will be required if they belong to you.