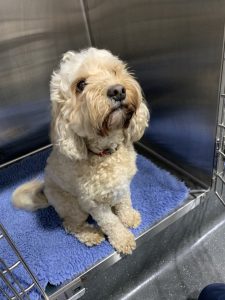 Do you recognise this gorgeous little man? We have tried both contact numbers but have had no luck unfortunately. Our revised hours are 8am-4pm Sat & Sun and 8am to 7pm weekdays. He will be safe and comfortable at SAH HQ overnight.
Our Lost Pets Profile
Date Found: 26/04/20
Sex: Male

Lost Location: Haldane Street, Beaumaris
Breed: Cavoodle

Colour: Apricot
Age: 4 Years

Please do not contact us for adoption inquiries. Sufficient proof of ownership will be required if he belongs to you.
UPDATE: Owner located. Thanks so much to all who shared & cared!