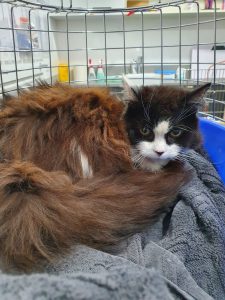 As you can see, 'someone' is a tad moody with us. We know in time she'll appreciate being safe at SAH HQ until we can hopefully locate her owner. She wasn't in the mood for an examination yesterday but today we've been able to get much closer to her.
We'd appreciate it if you could share this cat's image to local Cheltenham pages as we currently know very little about her.
Our Lost Pets Profile
Date Found: 04/02/21
Sex: Female

Lost Location: Nepean Hwy Cheltenham
Breed: DLH

Colour: Black & White

Age: Senior

Please do not contact us for adoption inquiries. Contact the City of Kingston for more information.