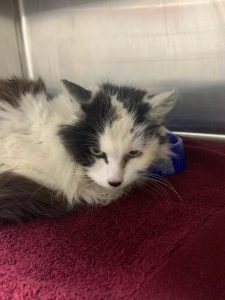 This poor little lady (we think as she's quite matted) is currently with us safe and sound. Do you know where she may live? 
To update your pets microchip information please visit our microchipping page for more information.
Our Lost Pets Profile
Date Found: 17/10/21
Sex: Female

Lost Location: Bellevue Lane, Cheltenham

Breed: DLH

Colour: White and Black

Age: Senior

Please do not contact us for adoption inquiries. Sufficient proof of ownership will be required if this stray animal we are caring for should belong to you.
** UPDATE: Contact the City of Kingston for more information.