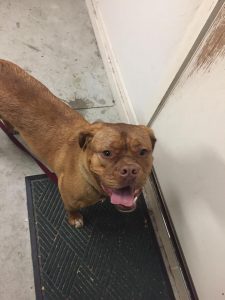 Do you recognise this lovely young lady? She has a distinct choker chain on and was located in Sandringham today. Thanks to her finder she'll spend a bit more time with us so we can attempt to locate her owner.
Our Lost Pets Profile
Date Found: 20/05/19
Sex: Female

Lost Location: Bluff Road, Sandringham
Breed: Dogue De Bordeaux

Colour: Mahogany
Age: Young

Please do not contact us for adoption inquries but feel free to speak with one of our nurses should you require any further information. Sufficient proof of ownership (such as the current information connected to microchip, photos and videos) and your identification will be required if they belong to you.
*** POST UPDATE: Nala is home safe & sound after her adventures. Thanks so much to all who shared & cared! ***