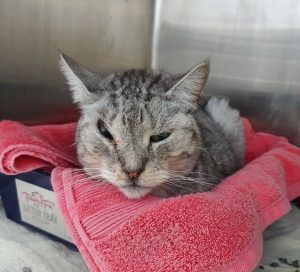 This poor fella is under the weather at the moment and is receiving care from us. If you are a member of any Hampton social pages we would appreciate you sharing our post. We will contact Hampton veterinary clinics in case anyone has made inquires about him being missing.
Our Lost Pets Profile
Date Found: 11/06/21
Sex: Male

Lost Location: Widdop Cres, Hampton East

Breed: DSH

Colour: Silver Tabby

Age: Adult

Note: Currently receiving Veterinary treatment
Please do not contact us for adoption inquiries. Sufficient proof of ownership will be required should he belong to you.
** REUNITED: Thanks so much to all who shared and cared!