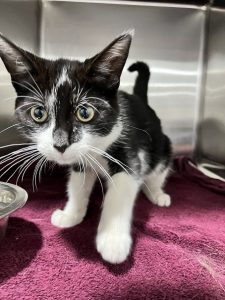 This cute little guy was brought in to us yesterday. He is from Springvale so if you are part of any groups out that way, we would appreciate you sharing our post so we can find his owners. 
To update your pets microchip information please visit our microchipping page for more information.
Our Lost Pets Profile
Date Found: 14/03/2022
Sex: Male

Lost Location: Kemp Street, Springvale

Breed: DSH

Colour: Black & White

Age: Young

Please do not contact us for adoption inquiries. Sufficient proof of ownership will be required if this stray animal we are caring for should belong to you.
** UPDATE: Contact The Lost Dogs Home for more information – 9702 8055.