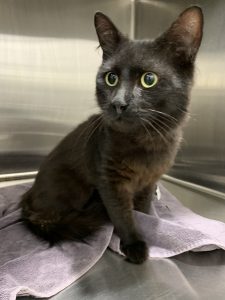 Unfortunately we have another un-chipped cat with us today, he is a young male that was located in Braeside. Anyone wishing to sell, or give away an animal must first implant them with an identification microchip before they advertise. If you want to check your pets chip details are up to date then please visit our page.
Our Lost Pets Profile
Date Found: 16/01/19
Sex: Male
Lost Location: 3 Mason Drive, Braeside
Breed: DSH
Colour: Black
Age: Young

Please do not contact us for adoption inquries but feel free to speak with one of our nurses should you require any further information. Sufficient proof of ownership (such as the current information connected to microchip, photos and videos) and your identification will be required if he belongs to you.