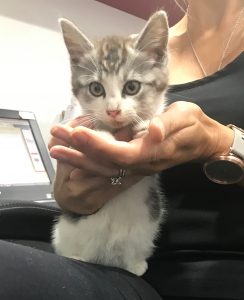 This small little guy was trying to find some warmth under a car bonnet today! He'll be nice and cool and safe at SAH at least until we can hopefully get him home.
Our Lost Pets Profile
Date Found: 27/12/18
Sex: Male
Lost Location: Lower Dandenong Road, Parkdale
Breed: DSH
Colour: White, Tan & Grey
Age: 8-12 Weeks (Approx)

Please do not contact us for adoption inquries but feel free to speak with one of our nurses should you require any further information. Sufficient proof of ownership (such as the current information connected to microchip, photos and videos) and your identification will be required if he belongs to you.