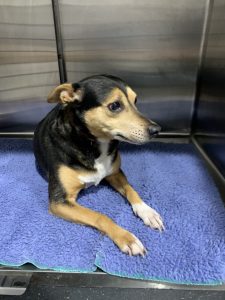 Found in Mordialloc Park last night, none of this lovely girls chip details are current unfortunately. We have contacted Aspendale and Kingston vets just in case however they too have not received any inquiries. Please share if you are in local Mordialloc groups to help get her home.
Our Lost Pets Profile
Date Found: 17/07/20
Sex: Female

Lost Location: Mordialloc Park (area near station)
Breed: Kelpie

Colour: Black, Tan & White

Age: Senior

Please do not contact us for adoption inquiries. Sufficient proof of ownership will be required if she belongs to you.
*** REUNITED: Brandy is now home safe and sound. Thanks so much to all who shared and cared!