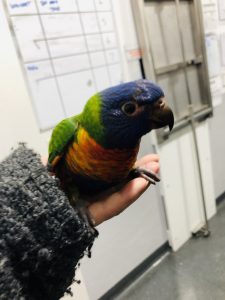 It's a long shot getting this lovely bird home – it seems quite tame and young. Please share if you know anyone in the area who is missing a pretty Rainbow Lorikeet.
Our Lost Pets Profile
Date Found: 23/08/20
Sex: Undetermined

Lost Location: Brindisi Street, Mentone
Breed: Lorikeet

Colour: Blue, Green, Orange/Yellow breast

Age: 12wks to 5mth's

Please do not contact us for adoption inquiries. Sufficient proof of ownership will be required if he/she belongs to you.