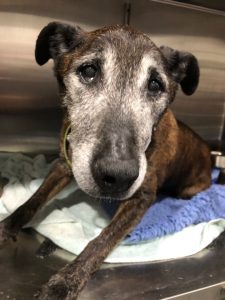 Our stray old senior fella needs your help finding home. He couldn't have come far from his home since he has very reduced function in his rear legs and possibly neurological issues. We're taking good care of him at SAH of course however we'd love to know more about him. Do you recognise him from the Mentone area?
Our Lost Pets Profile
Date Found: 03/01/19
Sex: Male
Lost Location: Bruton Ave, Mentone
Breed: Staffy X
Colour: Brindle
Age: Senior

Please do not contact us for adoption inquries but feel free to speak with one of our nurses should you require any further information. Sufficient proof of ownership (such as the current information connected to microchip, photos and videos) and your identification will be required if he belongs to you.
*** POST UPDATE: Gorgeous Dexter is now home safe & sound. Thanks so much to all who shared & cared! ***