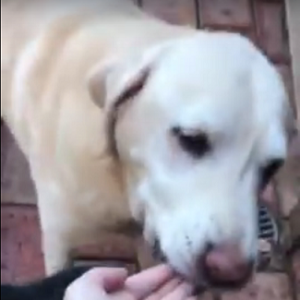 A testimonial written by Holly's Mum
We came to Southern Animal Health in a time of crisis. After being unable to contact our longstanding vet one afternoon regarding Holly's increasing discomfort with her breathing, I rang SAH in desperation to arrange a second opinion. Marcus quickly returned my call and we discussed the symptoms that Holly had been experiencing over the preceding months – about which we had also previously consulted our vet (as recently as four days prior). Marcus quickly identified Laryngeal Paralysis (LP) as being the likely culprit and suggested the possibility of surgery in the following days. Unfortunately, Holly's condition continued to steadily worsen overnight and by morning things were desperate – the closest analogy I can think of is that it was as though she was trying to breathe through a straw. On arrival at SAH, Marcus and his staff immediately swung into action to stabilise her. Marcus was direct yet empathetic when discussing the options before us – including the risks and the cost.
An important and crucial difference was unlike our usual vet, however, he was optimistic that despite Holly's age, her LP was treatable and that a positive outcome was a real possibility. This didn't need to be the end at all. That was the reassurance we needed. That same evening Holly was back with us resting comfortably and breathing peacefully (and silently) on her bed. Over two weeks later we are all still shaking our heads at her transformation – our happy, bright-eyed girl is back supervising the household's activities, her nine-year old daughter Charlie and hens Maggie and Florence. We cannot thank Marcus, Karin and their wonderful team enough for giving our beloved Holly more days in the sun and for treating our family with compassion and empathy during what was an extremely distressing time. Our only regret is that we hadn't found SAH sooner.
As a side note – in one of his follow-up calls after Holly's surgery (the SAH team's approach to client service is second to none!), Marcus suggested we set aside time to discuss how Holly's osteoarthritis should be managed going forward. While it is early days, her improvement on the new, more regular regime of anti-inflammatories he recommended has been marked. She is clearly more comfortable getting up and down, is walking with greater confidence and just seems perkier all round!