Bear is a delightful five month old Pomeranian puppy who had the misfortune of breaking both his front legs (at the same time), from a very common potential problem. He accidentally fell from only a short height – about one metre, on to a firm surface.
It is unfortunately not uncommon for such a minor incident to cause fractured bones in puppies and this incident serves as the perfect example as to why we recommend Pet Insurance for all puppies from ten weeks of age.
Bear's problem was the following:
Not only did this little dog suffer a broken (or fractured) bone, he actually suffered two broken bones – one in each front leg! Further compounding the problem was that the site of both fractures was the end of the radius bone, in exactly the same spot, both sides.
Now ordinarily, most fractured bones can be repaired by an experienced orthopaedic surgeon such as the one we have at SAH; with perhaps a less than five percent chance of minor to serious complications. The problem little Bear faced was that in the particular area of this bone (the distal radius, transverse fracture); it is notorious for carrying a much higher chance of complications and non-unions (i.e. the bone not healing!); no matter the experience and quality of the surgeon!
So poor Bear's owners were faced with a very difficult situation. Fortunately, at SAH we have a multitude of surgical options available from both advanced non-specialist surgeons that are experienced in orthopaedics, through to actual specialist surgeons that work on-site so you don't need to travel all over Melbourne! Of course specialist options come at a far greater cost and may or may not be needed depending on the experience of the general surgeons of a practice. But as is luckily the case in this situation, Bear's owner was able to remove finances from the equation.
Despite a reasonably significant chance of potential complications (which would come at further cost to correct); Bear had both his front legs plated at the same time and in his particular circumstance, there were no complications and all went extremely well throughout his recovery. View Little Bear's Broken Bones surgery images.  (WARNING: Graphic content on display).
We had this courageous little dog back multiple times for his re-visits and check-ups; with follow up x-rays at ten weeks. His recovery could not have been smoother. But for the first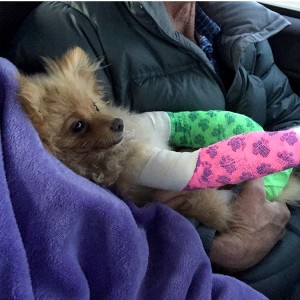 few days to weeks poor Bear had to learn to cope with two heavily bandaged front legs at the same time. However it is remarkable how well our pets cope in these situations. Just think of us humans in hospital with two broken legs, we would be in there for months!
Bear was home and happily bobbing around after just a few days. The main point of the Little Bear's Broken Bones case:
Insure your pets to give them the best chance of great health in the event of inevitable accidents and illness – from ten weeks of age!