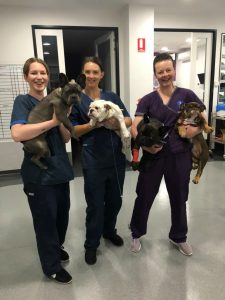 A typical day on Bulldog Thursday for Dr Karin David's at Southern Animal Health! Meet (from left to right) Frankie, Winnie, Florence and BB. (We also had Yoko who is not featured in this photo). This is a typical Bulldog Thursday for Dr David's with these three cuties in for the following reasons:
Frankie: Routine desexing and airway assessment which showed a really long soft palate with laryngeal saccules already everting and starting to occlude the windpipe (trachea). By surgically correcting these issues now before excessive noise starts, means Frankie has a much happier future of breathing easy!
Winnie: Winnie is a really concerning case – she was only 17 weeks old! She came to us for a second opinion after their original veterinary clinic and two days in an emergency centre were not able to work out the reason for her severe breathing concerns and pneumonia. The X-rays we took clearly showed a severe hypolplastic trachea and the supposed pneumonia that was being treated was not improving because this was not the problem. Winnie had a severely elongated soft palate, severely everted laryngeal saccules (which is very rare for a bulldog to have this problem before ten months, (let alone just 17 weeks) and very narrow nostrils. After Dr Karin's corrective surgery Winnie is a new dog, but unfortunately stage two laryngeal collapse had already started due to the delay in diagnosis and treatment. This cannot be corrected but hopefully we have stopped its progression going forward.
Florence: Florence was in to see us because she was struggling to eat and open her mouth. Although she has inflammatory myositis (an inflammation of muscle) and responds well to medication, our airway assessment showed a very long soft palate and saccules and this will be corrected once she has recovered from her myositis.
BB: BB was in for our standard recommendation of hip dysplasia breeds for sedation, Dr David's manual assessment, and if appropriate, JPS surgery for hip dysplasia to rotate the hips back into the socket and minimise the chance of a lifetime of medications and possible hip replacement in the future. BB did have hip dysplasia and underwent the basic and relatively non-invasive JPS corrective procedure. This can only be done in pups up to 16 weeks (the ideal age for best long term avoidance of hip problems is 14 weeks), after this time it is no longer an option.
Yoko: Yoko was a second opinion for an ongoing front leg lameness that had not been correctly diagnosed at another clinic. We diagnosed Yoko with shoulder instability or tendonitis, and he was given an intra-articular steroid injection, along with a strict restrictive exercise program for the next six weeks to maximise recovery. One week later he was doing really well.
Dr David's area of expertise are Bulldogs, lameness and advanced cancer. Bulldogs being her favourite breed, she just loves Bulldog Thursdays!