With Easter just round the corner, we have already seen our first patient with chocolate toxicity. Most people know that chocolate can be dangerous to dogs, but how dangerous and why?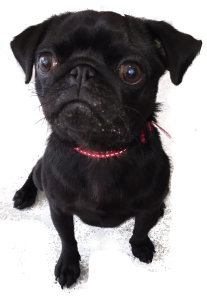 Our little sweet tooth patient was a wicked 5kg pug puppy who gobbled up 200g of milk chocolate that she swiped off the kitchen table. It doesn't seem like very much, but that's like an average sized human eating more than 2kg of chocolate; which is enough to make anyone sick. Dogs are a lot more sensitive than we are to the ingredients in chocolate like caffeine, theobromine and methylxanthines.
200 grams of milk chocolate is enough to cause serious side effects in a puppy this size; starting with vomiting and diarrhoea, but also hyperactivity, heart palpitations, twitching, tremors, seizures and sometimes even death. Dark chocolate is even worse. Only 60 grams (which is about the size of a Mars Bar), could be deadly for such a small dog.
The good news is that this little girl's Dad caught her in the act and brought her down to our clinic immediately so that we could induce vomiting to get all that chocolate out; and so that we could treat her with medication to stop any remaining chocolate left behind in her tummy from being absorbed into her system. If treated quickly, these dogs rarely have problems and those who do develop signs of chocolate toxicity, will usually respond well to treatment on a drip, and medication to control any symptoms; and will generally make a full recovery.
So please take care of your chocolate this Easter, and keep it out of reach of your pets (and in your mouth only). Most dogs find it just as irresistible as we do but it can cause serious problems.
If you suspect your pet may have been into your chocolate stash, please give us a call so we can help treat them and keep them safe.