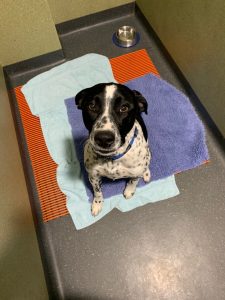 There's been a mix up with this lovely boy's microchip info so unfortunately we're at a dead end. Does he look familiar to you?
Our Lost Pets Profile
Date Found: 28/09/19
Sex: Male

Lost Location: Royalty Avenue, Highett
Breed: Bull Arab or Labrador Cross

Colour: Black & White
Age: Young

Please do not contact us for adoption inquries but feel free to speak with one of our nurses should you require any further information. Sufficient proof of ownership (such as the current information connected to microchip, photos and videos) and your identification will be required if he belongs to you.
** REUNITED: Thanks so much to all who shared & cared.  Cookie is now home safe and sound. He's happy even though he missed the grand final. **