The call came late morning on a Sunday – a Newfoundland dog was on route to our hospital with suspected bloat. Bloat (or gastric dilatation) is a very serious condition that most commonly occurs in larger deep-chested breeds and if not quickly treated, will progress to gastric torsion (where the stomach twists around on itself). Once torsion occurs, the condition becomes rapidly life-threatening. In vet-speak, we call this syndrome GDV (gastric dilatation and volvulus).
In Frank the Newfoundland's case, not only was his stomach twisted, but his intestines were also starting to twist around their blood supply (an extremely uncommon and even more rapidly fatal condition if not swiftly attended to). If you look at Franks Xray, you can see the large amount of gas (black shadow) in both his stomach and small intestines. Poor Frank was in a lot of discomfort, and was also suffering from a heart arrhythmia, which is a common complication of GDV.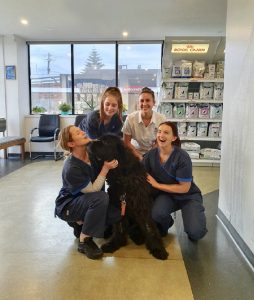 Luckily for Frank, our head surgeon Dr Karin Davids was at Southern Animal Health that day, and Frank was taken to immediate surgery to untwist his stomach and small intestines. Once this was done his stomach was permanently attached to the inside of his abdominal wall via sutures to prevent it from twisting again in the future (a procedure known as Gastropexy). Frank made a good recovery from surgery, but was left with two common complications that can occur after a GDV – a heart arrhythmia called ventricular tachycardia and ileus (when the intestines stop moving as they should). In any GDV case, the post-operative complications can also be life-threatening so Frank was not yet out of the woods. He spent almost a week with us in critical care and we of course all fell in love with him.
Ten days later, Frank has made it through and our nursing team were pleased to be reunited with him when he came in for his suture removal revisit. We are still managing his heart arrhythmia but he is happy and doing well and pleased to be back home with his family.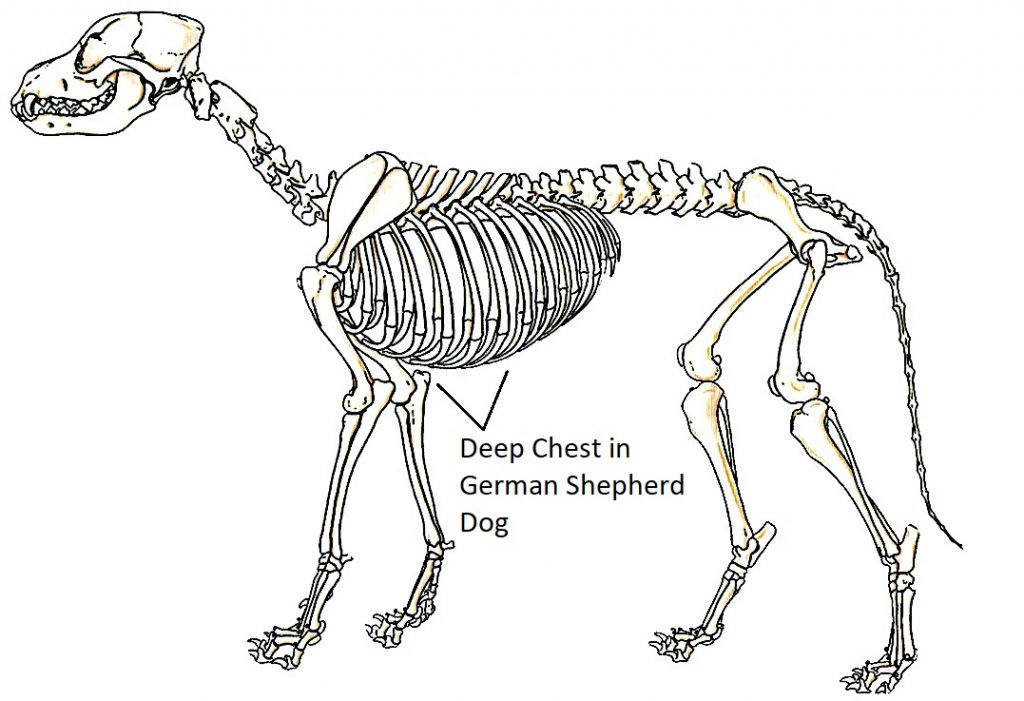 What you can learn from Frank's story:
• If you own a deep-chested dog e.g. Newfoundland, German Shepherd, Weimeraner, Pointer, Wolfhound, Bloodhound, Golden Retriever, Great Dane, Bernese Mountain Dog, then you own a dog that may be at risk of bloat.
• In risk-breeds, avoid exercise after feeding as this can precipitate bloat.
• Signs to look for: Lethargy, discomfort, tightness or distension of the abdomen, vomiting (or trying to do so), stomach sounds (like an inflating balloon when listened to).
• A prophylactic gastropexy is recommended in risk breeds to prevent torsion from occurring if bloat occurs (bloat is treatable, torsion is life-threatening). Gastropexy can be performed at the same time as desexing from 6 months of age. Please talk to us if you own a risk breed (or you are unsure if your dog is at risk) about the option of gastropexy for your dog – it can truly be life-saving.
• Our hospital is not only open all weekend and on public holidays, but we are staffed and equipped to perform major life-saving surgeries during these times when many other vet clinics are not open or running on limited hours. This avoids the more costly experience of attending an After Hours Emergency Centre. Tell all your friends, and always call us first if you have a concern on weekends or public holidays.
• Bloat and GDV are medical and surgical emergencies – DO NOT wait if you suspect your dog has bloat. Frank is a success story because his owners got him to us as soon as they suspected a problem.