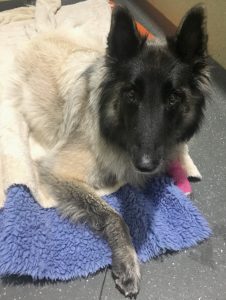 Ishtar is a 6 year old Belgian Shepherd who came to us after a nasty accident in which she fractured her right front and right hind legs.
Ishtar was saved from euthanasia by German Shepherd Rescue Victoria (GSRV), a charity that rescues, fosters and re-homes injured and abandoned German Shepherd (or in this case, Belgian Shepherd) Dogs. Southern Animal Health is pleased to assist this wonderful charity by providing non-profit veterinary services for their rescue cases.
Our head surgeon Dr Karin Davids repaired Ishtar's fractured scapula and femur with bone plates, and she was able to walk again the very next day! So far Ishtar is progressing well after her major surgery. We will keep you updated on her progress.
View Ishtar's progress here. This footage was taken four weeks after her surgery.