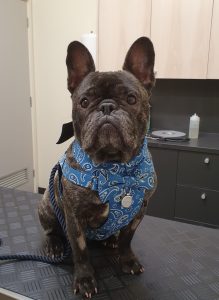 I purchased Marley through a breeder.  He was reserved for someone else however he had severe stenotic nares therefore the breeder kept him and had him desexed, the nares and palate operated on.
Once this had healed he was placed up for sale.   I approached the breeder and asked questions regarding the operation and was assured that he was healthy and had no further health problems.  After going to see him, I fell in love with him and purchased him.
Upon getting him home, he seemed happy enough but would vomit/regurgitate and snore constantly and very loudly.  I thought that this was part of the breed as that is what I had read and heard from other people, until it got really bad one night and he was constantly vomiting and in pain.  Then began the path of his health problems and expensive vet visits and surgeries.  I was told that Marley has IBD and that this is the cause of his regurgitation/vomiting.  He is on a special diet which has controlled this to a degree.
His snoring was quite loud and his eyes were constantly weeping – Marley had entropian of the eyelids.  It was recommended that he have entropian surgery to fix this.
I searched for a vet that has a great knowledge of the Bulldog breeds and their health issues which I found in Southern Animal Health and I went along to see them to get advice on all his health issues.  Although Marley had his palate and nares operated on by the breeder, it was suggested that he would benefit greatly from BOAS operation as the nostrils were not open enough and he was too young when the palate was done and it was possible it may have thickened again and that surgery may rectify or improve his regurgitation issues.   I felt extremely comfortable with them due to their vast knowledge of the health issues with this breed and so Marley had the BOAS operation together with the entropian operation.  Dr. Davids did this surgery as she is very experienced in this field.
It has been 7 weeks since the operation and Marley's eyes have not been weeping like before, his snoring has stopped (yippee) and his vomiting/regurgitation has so far improved vastly. Hopefully once he is completely healed from the surgery this will have disappeared along with the reflux.  I am so happy with the advice and the experience of these breeds that I got from a vet that has the vast knowledge of the health issues of these bulldogs.  I wish I had found this vet when I first got Marley so that I could have had the advice on these health issues with these breeds, and had the BOAS operation earlier and perhaps prevented/improved his health issues sooner and saved on a lot of expensive and invasive surgery.
The health of our four legged companions is important – especially the Brachy breeds and the issues that they may have so finding a vet with great knowledge and understanding of them is fantastic. It means assisting them to get the best care so that they can lead a healthy and happy life.