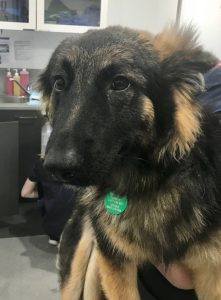 When our head surgeon Dr Karin Davids first saw her four months ago, Pippi was unable to walk on her front legs (click here to view video) due to a tendon problem which was causing weakness and bowing of the legs. Dr Davids also diagnosed Pippi with hip dysplasia, a condition which would have been a high chance to cause crippling arthritis in her back legs without surgical intervention.
At Southern Animal Health Pippi had specialist surgery on her hips, as well as a corrective procedure on one of her front legs to allow it to grow as normally as possible and to minimise the amount of bowing. Happily, both these procedures have been a success! While she will continue to need intermittent treatment for her orthopaedic conditions, Pippi will soon be ready to be adopted out to her furever home thanks to the care and commitment of German Shepherd Rescue Victoria (a charity that fosters and re-homes orphaned and injured German Shepherds).
This is Pippi now at approximately 9.5 weeks after surgery.
It's a short video because as you will see, she was too interested in exploring the rest of the clinic!