Roxy, our suspect mandible cancer patient – having had her initial pain killing drugs followed by a Pamisol infusion for bone pain a few days ago, re-presented to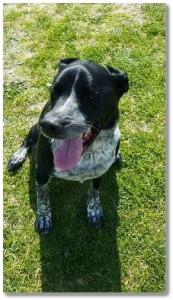 our clinic. Unfortunately she isn't doing brilliantly, she was hanging in there but nothing spectacular.
It was decided at this stage to have another discussion regarding the potential to remove Roxy's cancer via a hemimandibulectomy. Again, although sounding drastic, we explained the main reason for this consideration is in fact pain relief. Nothing is more pain relieving when it comes to cancer than actually removing it!
Also of consideration was the following:
This lesion is a suspect cancer, specifically a type of cancer called an osteosarcoma. These cancers often occur in what we call the long bones – in the four legs. When they occur there, about 85% of the time the cancer will return even if we immediately amputate the leg. However, often owners will still make the decision to amputate, not so much for the 10% chance at a cure, but because the dog will be pain free before the cancer returns (a great decision so that the dog lives pain free and happy until such time as it returns). The most common reason for euthanasia is uncontrollable pain of the original cancer, often within six weeks of diagnosis. To at least live happily and pain free until that time is a good thing! 
However Roxy's suspect cancer was not in one of these long bones, it was in a flat bone. Her jaw. These osteosarcoma's carry about a 50% chance of cure if removed, all be it that we need to consider the seemingly drastic option of removing half her jaw. On the basis of pain relief rather than a chance of actual cure, Roxy's owners decided that they wanted to re consider this surgery.
One more consideration before doing this drastic surgery is that although the cancer may well come back anyway, if there is already obvious spread on a CT scan, Roxy won't have much time left at all post surgery, hence it would be a lot to go through for such a short time. We ideally like to perform a CT scan on these patients to ensure there is no obvious immediate spread of cancer.
We recommended doing a full body CT scan first to see if there is any evidence of the suspected cancer having spread. If Roxy gets the all clear, this does not meant it won't come back, it just means there is a chance of cure or at the very least, a good amount of time pain free and happy before it does return.
Southern Animal Health organises our own CT scans through our own clinic so Roxy was left with us for the day and picked up at the end of the day after her procedure, along with a specialist's opinion of the scan.
Thankfully, Roxy's scan was all clear. We have now organised Roxy's surgery with Dr Karin Davids. Look forward to our report and pictures of this surgery!
Read the next part of Roxy's Bone Cancer Journey