A few weeks after Roxy's major surgery she has recovered remarkably! These images are of her enjoying life far greater than she did before having this cancer removed.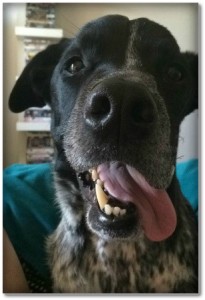 The pathology did come back as an osteosarcoma as we had suspected all along.
Now this is very important: Roxy's bone cancer may well come back, within weeks or months. Hopefully, it doesn't come back at all, or, if it does, we hope it's a long time from now. But until then, Roxy is living the dream! Pain free and no knowledge of the concern that may lay ahead. That is our burden, as human beings, we bare all of the emotional burden and our pets are lucky in this situation, they simply enjoy each and every day!
But here is the really great news: there is a chance, a solid one, the cancer never comes back and she lives a full life. Hope is a wonderful thing and Roxy has it due to her wonderful loving family.
A Testimonial From Roxy's Owners:
This time last year, Roxy went through some surgery to remove a mast cell tumour from her nose. She recovered very well and we were so relieved she was in the clear from that.
In august this year, I noticed that Roxy had pain in her jaw, particularly when eating and if someone touched her around the mouth area. She was also very flat and just not herself.

We got the worse news possible saying it was a cancerous tumour and very difficult to operate as they would have to remove a part of her jaw and the recovery would be long and painful.
We discussed options and money was not an issue- we all LOVE Roxy sooooo much and would do anything for her. She is such a special part of our family and did not want to give up on her.
We were keeping her comfortable at home and giving her a lot of pain relief supplied to us by the vets as it is a very painful tumour, particularly when she eats.
After much discussion and meetings with Dr Marcus about treatment options, we got news that the visiting specialist, Karen, was confident she can remove the tumour and give Roxy a better chance and possibly a few more years with us! It was also said the removing it would mean Roxy would have better quality of life and not be in so much pain!
We were all so ecstatic and as a family, agreed on doing the surgery. Dr Marcus then offered to do a set of scans to see if the cancer has spread anywhere else – liver, spleen, lungs- if it had spread, then we were not going to put Roxy through the trauma of surgery and removing her jaw! The great news came back and the cancer was just in the jaw and had not spread to any of her vital organs!
On September 4th, 2015, Roxy went in and had the surgery. We went in and visited her after the surgery and we could not believe how good she looked after such a massive operation! The nurses and vets also couldn't believe how amazing she was after such a huge surgery!
2 weeks on, Roxy has got a new life. She is so much happier and full of life! The pain has gone as the cancer was so large, it fractured her jaw! Roxy is now eating and drinking so much better than before and seems like she shed 5 years off her life! She is back running around and going swimming in beach when we had the nice warm weather last weekend. She is even back doing Pet Therapy at the Nursing homes I work at where they oldies absolutely love her!
 The staff at Southern Animal Health have been absolutely amazing to Roxy and myself + all my family. I cannot put in to words how grateful we all are! Karen has done such a wonderful job as well, you can't even tell she's had a part of her jaw removed, her tongue hangs out to one side but it's actually really cute. Other than that, you wouldn't even know!
If anyone with a pet has the difficult decision to do some surgery, look at Roxy and her story. She has recovered so well and has given her better quality of life. Pets are family and deserve the same treatment as humans. I'll do it again if it means a better life for Roxy!
 Lani Nicholson, Mummy of Roxy