Recently at SAH we have unfortunately seen a couple of cases of a seemingly harmless toys causing potentially life threatening problems in our patients.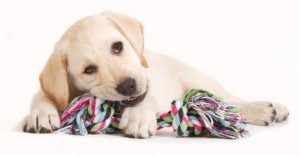 Rope chew toys can be great for puppies or adults under supervision however they can become very dangerous and even detrimental when left alone with them because pieces can be chewed off and swallowed.
'Ninja' who is an eight year old Japanese Spitz, came to see us recently because he had been lethargic and vomiting. He was admitted for hospitalisation and had surgery the next day when it became evident there may be a foreign body causing a blockage in his stomach and small intestine. Ninja's small intestine had been severely compromised as a result of the foreign body and two thirds of it had to be surgically resected by our advanced surgeons Dr Seung Kang and Dr Karin Davids. Just a short time later we had a very similar situation with Rupert  – a ten month old Blue Staffy who was brought in to us unwell with vomiting and lethargy. A potential foreign body was diagnosed with xrays and surgery performed to remove the item.
Both these patients were brought into us within a few weeks of each other and both were found with an obstruction caused by a string/rope toy. Luckily, Ninja and Rupert bounced back quickly and were ready to go home the very next day after surgery.
We urge you to please be careful of the types of toys you leave your pets with unsupervised, and always supervise them with rope toys. If you suspect your dog may have a blockage, please call us to be seen urgently.