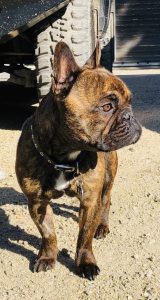 Please meet "Trevor" my 2yr old Frenchie.
My family re-homed Trevor one year ago and the little guy has had a huge impact on us all. We adore him and we do all that we can to keep him happy and healthy.
In a recent consultation at Southern Animal Health (SAH), we were discussing Trevor's snoring and gasping for air at night, and also his recovery rate after exercise. His snoring was so loud that we would wake to try and reposition him….it didn't work for long! SAH took time to discuss the options for helping Trevor including giving me a print out on all the information associated with Brachycephalic surgery. I never once felt rushed or confused. The handout provided gave me the ability to read and digest every aspect of the procedure, from risks to costs involved. As a family, we decided to go ahead with the surgery.
From day one post op there were significant improvements to his breathing. The snoring had all but disappeared…..gone!! Trevor is now quicker to recover after exercise and even keeping up with my Kelpie. I know that if I had had Trevor as a young puppy I would have got him help much sooner, possibly at the de-sexing stage.
3 month post op. Trevor's snoring was dramatically reduced from day one and has continued that way. I also believe that this has contributed to a less restless sleep. He doesn't change position anywhere near as much and that must feel like a positive for him. 
The other big positive for my family and Trevor is the lack of vomiting. It's gone! 
I literally can not remember the last time he vomited! Really happy with the outcome of the BOAS surgery….I believe you have helped our Frenchie to be a healthier, happy dog. 
We are so thankful for the wonderful work that Karin and the staff at SAH perform everyday. Karin has made this Frenchie happier and healthier.
Billy and Trevor