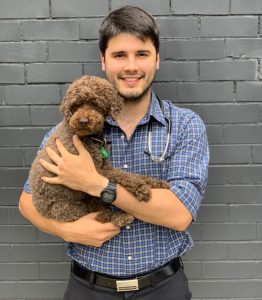 Mark undertook the Veterinary Bioscience Specialisation pathway during his final year of his Bachelor of Science and followed this with completing his post-graduate Doctor of Veterinary Medicine at The University of Melbourne.
Mark enjoys consulting as it provides him a glimpse into the unique and wonderful bond between companion animals and their owners. Mark chose Southern Animal Health due to the high quality of care that is provided to both the clients and patients. Mark also subscribes to the belief that practical preventative medicine is a better approach to our pet's health than reactive medicine. Mark's areas of interest are dentistry and internal medicine.
When Mark is not busy caring for Bayside's furry friends, he can be found playing tennis, hanging out with friends and family, spending time with his spoodle Skye and running his blog 'The Vet Society'.