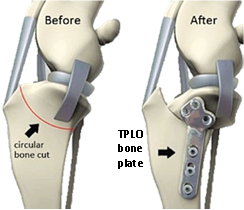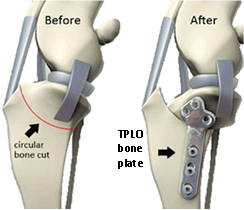 Otherwise known as a bone levelling procedure, the aim here is to change the angle of the tibial bone to level off the knee joint which creates a flat joint, allowing for less shearing movement after cranial cruciate rupture. A circular cut is made in the top of the tibia to rotate the bone in order to effect a flat joint surface.
This procedure is far more effective than the stabilising procedures for larger dogs, as the shearing force that is the normal concern for arthritis development in dogs post cruciate rupture is removed.
TPLO is by far the most advanced procedure available for cranial cruciate rupture, giving the best long-term result compared to all other techniques such as TWO, TTA and TTO.

This procedure is the ideal procedure for any dog over 25kg's, or dogs between 20-30kg with a large tibial plateau angle. This is due to the nature of the circular cut which preserves the bone length and gives the best post-surgical levelling plane.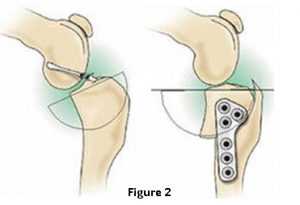 Note how the angle of the tibial plateau has changed (figure 2) to a horizontal level eliminating the shearing forces with each step the dog takes.
Tibial Plateau Levelling Osteotomy (TPLO) Summary:
Recommended for dogs over 25kg's
Performed by our Advanced Surgeon Dr Karin Davids


Read a testimonal from Jed The Staffie's owner