TJ's Story
TJ was an English bulldog who first came to our clinic as a 4 year old, snoring like a steam train! We gave the obvious advice, but this owner explained that she went to her previous vet just three months ago for dental work, and was advised at the time that there were no soft palate concerns. We suggested strongly that she seek our second opinion because we strongly believed that she may have been incorrectly advised. She said that she would think about it, but as she really trusts her vet, she can't see how that would happen.
We gently explained that brachycephalic dogs need special expertise and it's possible her vet did not have this. We did not hear from this client again until three months later when we received report from the local emergency centre.
TJ had presented distressed and developed non cardiogenic pulmonary oedema – a condition that occurs when an increased oxygen need is not met due to their obstructive airway anatomy, that results in fluid filling the lungs. TJ needed to be placed in a medically induced coma with a breathing tube then inserted to give him the oxygen he needed. Sadly after 4 days, and a $20,000 bill, TJ was put to sleep. The official diagnosis under anaesthetic was that there was significant BOAS due to a long thickened palate and severely everted laryngeal saccules.
Unfortunately had this been addressed when he was young, or at least three months earlier when anaesthetised for his dental, this would have been avoided.
Winnie's Story
Winnie was a 16 week old Bulldog puppy who came to us having been diagnosed with pneumonia by both her own vet, and the emergency centre that she was then sent to due to her difficulty breathing.
Unfortunately she was not responding to the antibiotics prescribed, hence her owners sought our help. Winnie had been inadequately diagnosed. The pneumonia being a progression of non cardiogenic pulmonary oedema due to severe BOAS concerns including stage 2 laryngeal collapse, and a severely hypoplastic trachea. At just 16 weeks old this was a dire situation, she needed surgery immediately but with a 20-30% chance she would not survive.
Fortunately she did survive after Dr Karin Davids operated, but she was lucky. However with such a severe hypoplastic trachea her life will always be compromised. Winnie's story is one of needing expert advice as early as possible, and why we need public pressure for an accreditation scheme for screening for the right dogs to breed from.
Archie's Story

Archie, a 10 week old gorgeous French Bulldog, presented to our clinic with quite significant snoring and stenotic nares that could be easily diagnosed. After our education consultation Archie's owner was more than prepared for assessment and correction at 6 months. However in just the next few weeks Archie's symptoms became really severe. He was one of the more advanced cases, similar to Winnie, that was in trouble early.
Emergency assessment by Dr Karin Davids revealed stage 2 laryngeal collapse was already present –  secondary to a severely long palate and significant everted laryngeal saccules, as well as a significant hypoplastic trachea diagnosed by radiology, at just 14 weeks old! Fortunately he survived and is doing OK after corrective surgery, but still struggles with his breathing due to laryngeal collapse and his hypoplastic trachea , both of which cannot be corrected. It is also of real concern that he may progress to stage 3 laryngeal collapse in the future. Surgery at least potentially halts this progression, which would have been rapid without surgery.
Archie's story is yet another example of why we are imploring breeders to start a discussion over a really effective accreditation scheme.
BB's Story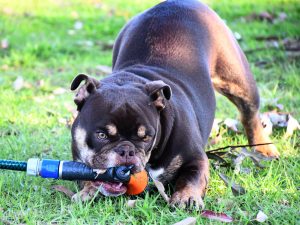 BB is an Aussie bulldog who's owner did his research and came to us from Warrnambool. BB was not a snorer, she exercised really well and was your classic happy no problem puppy. But as we advise, it is still best to assess airways and if concerns exist, correct them early to prevent snoring coming along later. This assessment and resultant surgery (as she did have an excessively long palate) was done at 7 months of age.
BB's owner noted, after her preventative operation, that she was 80-90% improved in her aerobic capacity! Actually running around significantly better than before, with almost twice the energy.
It just goes to show that we accept these breeds how they are, thinking there is no concern. But many dogs are significantly improved after surgery. If you would like to read more, here is the email that BB's Dad sent to Dr Karin.