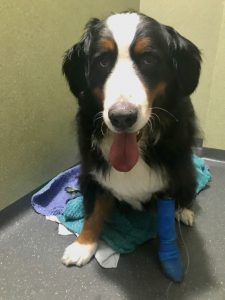 Four year old Dexter came to see us at after spending some time in an emergency centre. He has a history of eating socks, but usually passes them through without issue. This time he unfortunately wasn't so lucky.
Although Dexter had spent some time at the emergency centre, once we saw him it was obvious he needed exploratory surgery to ensure there was no foreign body that could potentially cause disaster. Exploratory surgery, in situations where vets may not be 100% sure if there is a problem or not, is the most safe and efficient procedure to ensure something is not being missed that will become a disaster if we wait too long to act. The advantage of a quick and cost efficient exploratory laparotomy is that imaging (xrays) often miss problems, and we have seen many cases referred to us that have been imaged and observed for far too long, only to find disastrous results once they come to us for a second opinion.
Although Dexter was relatively bright upon presentation, just look at what he was hiding low down in his intestine! Had we not performed this surgery, he may have potentially only been hours away from half his intestine dying off.
Dexter had decided that the socks that he had ingested in the past were not filling enough for him, so he upgraded to stockings!
Our client did what we ask all Bayside pet owners to do when at an emergency centre overnight, call us at 7.30am the very next morning so we can give you advice on what options you may have, often at a mere fraction of the cost of emergency centres and with greater expertise.
Always remember that on weekends we are open to 8pm both Saturday and Sunday, so always call us first and keep our number in your phone.