Frankie is a three and a half year old Frenchie who came to see us with a long history of breathing difficulties, snoring and regurgitation. This is a common combination of symptoms that we see in this breed, especially in dogs that have not had airway assessment and relevant correction at 6-12 months of age. Unfortunately for Frankie, soft palate surgery that was performed elsewhere when he was younger had made minimal difference to his symptoms at the time and these symptoms were now worsening.
Frankie came in for BOAS assessment with Dr Karin Davids. He had correction of his stenotic nares, shortening and thinning of his long soft palate, tonsillectomy and removal of everted laryngeal saccules. Sadly he was also found to have stage 2 laryngeal collapse (where the cartilage of the larynx becomes weakened and collapses due to ongoing increased upper airway pressures). Stage 2 laryngeal collapse is a secondary change that is preventable with early corrective airway surgery, but non-correctible once it occurs.
Being an older dog with significant symptoms, we had pre-informed his owner that there was an increased chance that he may need oxygen therapy or tracheostomy tube placement post-operatively (where a tube is place directly into the windpipe to bypass the upper respiratory system). This proved to be the case for Frankie. After 36 hours of intensive care, he was doing well, & the tracheostomy tube could be removed. 
Just two weeks after surgery Frankie is a different dog!
He no longer has to hold his neck extended to breathe
He no longer snores and,
There has been a 90% reduction in the amount of regurgitation.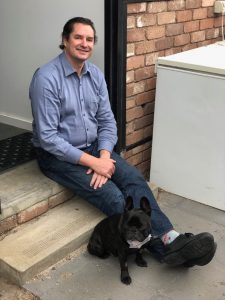 Frankie and his owner are looking forward to an easier-breathing, more active life, and no longer have as much concern about the impending warm weather.
Things to learn from Frankie's case:
Airway assessment and corrective surgery is best done at a young age (we recommend 6-12months) to get the best results, and prevent secondary changes developing.
Stage 2 laryngeal collapse is an avoidable progression of BOAS if correct surgery is performed early.
Any brachycephalic breed dog at any age (especially if there are symptoms of reflux, breathing difficulty, exercise intolerance or snoring) will benefit from airway assessment and correction.
If your vet is recommending airway surgery on your dog, be sure that all 5 of the following elements are addressed:
Stenotic nares

Soft palate shortening

Soft palate thinning

Tonsils

Everted laryngeal saccules
Please refer to our Bulldog Corner for more detailed information, as well as questions to ask your vet.
From two years of age, results of surgery may be lessened due to non-correctible secondary changes that have developed, and the possibility of post-operative complications requiring critical care may increase. When operating older dogs, we always plan for these scenarios.
In dogs with stage 2 laryngeal collapse, it is even more important to correct as many other airway concerns as possible in order to prevent progression to life-threatening Stage 3 collapse.
Dogs with stage 2 collapse are much more at risk of developing heat stroke, even in only moderately elevated ambient temperatures.

Please note: 
Though older, symptomatic dogs have a significantly higher risk of needing a tracheostomy tube compared to dogs operated at 6-12 months of age, the chances are still low, and most dogs do well with it. In order to avoid progressive airway changes and increased risk of tracheostomy and critical care in the post-operative period, get you dog assessed when it is young.