MacGreggor, a 9 year old Irish Wolfhound cross, has had a rough time of it recently.  He had been battling crippling arthritic elbows that eventually needed a clean up via arthroscopy. Having finally recovered beautifully from this, walking better than he had for some time, for some reason he had become quite irritable and shy in recent weeks. Being due to have his annual check up, this was communicated to our veterinarian who upon careful examination, felt there may or may not have been an irregular feeling spleen. 
Getting a second opinion from Dr Seung Kang who was at hand during the day, a decision was made to investigate f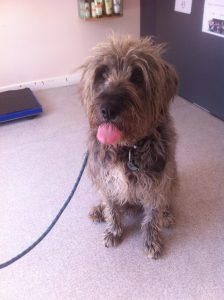 urther. Ultrasound revealed a subtle but suspicious mass on MacGreggor's spleen. Being extremely experienced in both splenic and hepatic cancers, at Southern Animal Health we always recommend exploratory surgery for not only a definitive diagnosis, but potentially curative surgery as quickly as possible. However although booked in for the next day for the exploratory surgery, Mac's owners called us that very morning to advise he was really lethargic and that they would struggle to get this big boy into the car. Dr Seung Kang (one of our two advanced surgeons who helped confirm the suspicious spleen) and nurse Sarah headed immediately for the SAH pet ambulance to go and get him. Just two hours later Mac had a ruptured splenic cancer removed and was up and about.
This video of MacHagger is of him just days after surgery. His owners could not believe how much better he seemed the very next day compared to the previous few weeks of being so lethargic and quiet!
Mac's cancer may return at some stage but until it does, he now has a grand, happy life he was not previously enjoying only a day earlier. At least he is now also enjoying his brand new elbows that were hindering him before this nasty spleen concern came along! And the great hope is that he may even be cured. Previous readers of our ongoing success stories may remember Kimba. Kimba had a very similar story about 12 months ago when his biopsy result came back as the nastiest of splenic cancers, rarely giving more than six months time. Yet he is still running around happily to this day!
At SAH we do believe quick action and early intervention improves our chances when it comes to cancer. We feel that many clinics give far too grave a prognosis, and spend far to much time trying to do more tests, imaging, MRI's, CT scans and specialist opinions (which are often not necessarily that special!) –  instead of just removing the cancer!